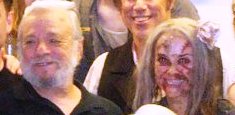 BERKSHIRE FINE ARTS by Charles Guiliano
That said we must have a special mention of Christianne Tisdale as the evocative Beggar Woman. She is the smeared up, fetid, gutter snipe and surrogate of London's sewer of humanity. Her character is woven through
the narrative. After begging for alms she tosses up her skirts and thrusts her scruffy muff in our face. There is mystery and charisma to the character who turns out to be the linchpin of the plot. Boyd has wisely given her considerable latitude to craft an unforgettable performance.
PITTSFIELD GAZETTE
by Jonathan Levine
It's shocking to see beautiful Christianne Tisdale in rags as the Beggar Woman (now, she'd be an interesting Mrs. Lovett).
METROLAND by Ralph Hamman
Christianne Tisdale (compelling and clear-voiced as the Beggar Woman)
.
..
IN THE SPOTLIGHT
by
Karolina Sadowicz
Christianne Tisdale brings unexpected laughs and tragic peaks in her portrayal of the mad beggar woman.
WBRK RADIO by Ron Lee
Christianne Tisdale completes this cast with her haunting Beggar Woman.
THE
COLUMBIA PAPER by Marion Hunter
It has Christianne Tisdale as the Beggar Woman, who...easily negotiates some difficult vocal writing and makes the character's madness vivid.
BERKSHIRE EAGLE by Jeffrey Borak
Christianne Tisdale's unsettling
Beggar Woman.
TROY EAGLE by Bob Goepfert
Christianne Tisdale makes the beggar woman a pathetic figure.
CURTAINUP by Elyse Sommer
...convincing and musically pitch perfect...Christianne Tisdale as the Beggar Woman...
BERKSHIRE ONSTAGE
by Larry Murray
As the beggar woman, Christianne Tisdale...added another dimension to the part...giving the role a clearer depth and meaning.